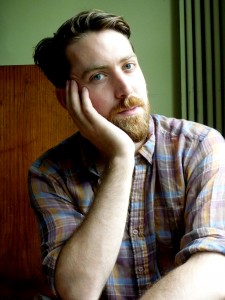 Liam Byrne divides his time between playing very old and very new music on the viol. He has been praised in The Times for his "nuanced and expressive, stylish virtuosity" and by The Guardian for his "glittering performance". With the firm belief that baroque music can be vibrant and expressive on its own terms, Liam's solo work regularly explores lesser known corners of 16th and 17th century repertoire. This same interpretative curiosity has led him to work increasingly with living composers, and he has had new solo works written for him by Edmund Finnis, Nico Muhly, Valgeir Sigurðsson and others.
As a chamber musician, Liam has performed and recorded with many leading Early Music ensembles. For several years he was a member of the renowned viol consort Fretwork, with whom he toured internationally and played an active role in commissioning new works. Other chamber music activities include performances and recordings with the Dunedin Consort, The Sixteen, Le Concert d'Astrée, i Fagiolini, Concerto Caledonia, and the viol consorts Phantasm and Concordia, among many others.
Beyond the realm of classical music, Liam has worked with a wide variety of artists including Damon Albarn, Nils Frahm, Matthew Herbert, Valgeir Sigurðsson, Martin Parker, Shara Worden (My Brightest Diamond) and The Hidden Cameras. He has played a significant musical role in the creation of several large-scale operatic works: Damon Albarn's Dr Dee (2011-12), Shara Worden's You Us We All (2013), and Valgeir Sigurðsson's Wide Slumber (2014). In 2015 he will undertake a new project with Belgian ensemble Baroque Orchestration X and Icelandic musician Mugison.
In April 2015, Liam will begin a 6-month Artist Residency at London's Victoria and Albert Museum, in connection with the opening of their new Europe 1600-1800 galleries. The residency will involve new works and old works and performances in various veins, both in the museum and online.
Liam took his BMus and Performer's Diploma in viola da gamba with Wendy Gillespie at Indiana University and holds an MPhil in Musicology and Performance from Magdalen College Oxford, where he studied viol with Laurence Dreyfus and counterpoint and early notation with Margaret Bent. Liam is professor of viola da gamba at London's Guildhall School of Music and Drama, where he also teaches Medieval and Renaissance Performance Practice and leads a viol consort.
Liam plays a 7-string bass viol by John Pringle, a 6-string bass by Marc Soubeyran, and a treble viol by Dietrich Kessler, which is graciously on loan from Marc Soubeyran.