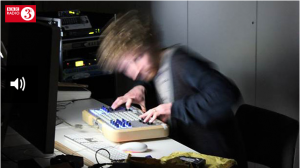 In celebration of BBC Radio 3's 'Baroque Spring' in March 2013, I was invited to do a collaborative project with the composer Martin Parker for the radio programme Late Junction. (You can still listen to the programme here, but I'm not sure how long the link will work.) Their special thing is that they end each programme with a 25 minute collaborative session, which brings together two people from usually quite different backgrounds who have never worked together before. The way it worked with Martin and me was that I went in to the studio by myself in February and recorded three old pieces for solo viol. The nice folks at the BBC then emailed them to Martin, who transformed each piece into something new using a different process for each. The result was really quite extraordinary. I was amazed at the way he was able to capture something essential about each piece, and he managed to tease out elements that I felt were very personal to me. For this particular session this was as far as the collaborative aspect went, but the two of us have plans to do more in the future for sure, possibly also live.
The first piece was an Almain for lyra viol by Alfonso Ferrabosco II (in fefhf tuning for those of you who were wondering). I chose it because it's written in an unusual tuning that is designed to heighten specific sonorities. Martin did some kind of wizardly process involving a graphics tablet (which I suspect means iPad?) and manipulated the Ferrabosco into a sparkly klangy thing that I just adore.
Here's the rough and ready single-take version of the original I recorded:

And here's what Martin made:
The next piece was that old chestnut Les voix humaines by Marin Marais. I chose it because it's got that amazing major 7th and everybody loves it. For this one, Martin left the original piece almost entirely intact. What he did was take the recording of me playing Marais on a set of portable speakers and he took it round Edinburgh with him, playing it out loud in different public spaces. He then recorded this happening on a separate device, making a kind of audio record of the existence of my Marais in various urban environments. It's called 'worldising', apparently. The result is something really lovely that manages to emphasise both the humanity and the fragility of the Marais.
It goes like this:

[audio http://www.liambyrne.net/wp-content/uploads/2013/05/02-Les-voix-humaines.mp3]
Finally, I played an unaccompanied Vivace by Abel. It was a big juicy block of D major chord that moved around in different ways, double-stops, arpeggiations, etc. In this case, Martin picked up on the harmonic stasis and made something that was a kind of electric arpeggiation in itself. It's a bit intense but I like it, and the ending is really cute.
Some manipulated Abel: