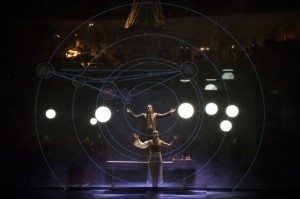 Damon Albarn's 'folk opera' (which I would've called a masque but the PR team didn't ask me now did they?) was a co-commission by the Manchester International Festival and English National Opera. It premiered at the former in 2011 and was revived at the latter in 2012. It was a devised work, which musically and theatrically was based on a lengthy and improvisatory workshopping process. It was full of glorious masque-like spectacle and was in essence a very beautiful meditation on the life of John Dee, the mysterious Elizabethan astronomer and alchemist, among other things.
Musically it was very fun to put together and I learnt so much, especially from Tony Allen, the afrobeat drumming legend. My sense of rhythm has not been the same since, even in baroque music. Actually, I mean especially in baroque music. The way it worked was that there was a core band of on-stage soloists comprised of organ, 3 renaissance multi-wind players, theorbo, kora, drums, Damon and myself. Damon would write songs and then invite us to see what we could do with them. Because of the seductive nature of the viol, and the way it thrives with the solo voice, I ended up being allowed a huge amount of freedom. Here are excerpts from three of the things I really liked:
This is from a track that ended up being called 'The Moon Exalted'. It was sung by Victoria Couper and Arngeir Hauksson played the theorbo. We were feeling a kind of Marais Prélude vibe in the intro.
[audio http://www.liambyrne.net/wp-content/uploads/2013/05/loveanother.mp3]
This next bit is a kind of villain aria for the spooky countertenor character played by the incredible Christopher Robson. In the first verse I'm playing a very simple accompaniment that someone else made, and in the second verse I'm doing some weavy counterpoint of my own invention.
[audio http://www.liambyrne.net/wp-content/uploads/2013/05/scrier.mp3]
The final track on the album is this song called 'The Dancing King', which also ended the opera in the second year. This one was particularly fun because it was recorded in a separate session at Damon's studio. I showed up one evening in November and he played it for me a few times on the piano, and then we recorded it live in one take, just the two of us. I then went back in and improvised some more layers on top of it and that's what you hear now.
[audio http://www.liambyrne.net/wp-content/uploads/2013/05/dancing-king.mp3] 
And here are a few more videos of us doing songs from the project, on Later… with Jools Holland