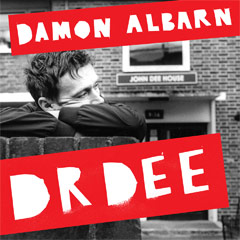 Damon Albarn's opera/masque/stage-show/volkoper/whatever is one of my favourite things I've ever done. It started at the Manchester International Festival in 2011 and ended up at the English National Opera in 2012. In between, we recorded this disc.
It's a kind of musical & theatrical meditation on the subject of John Dee, the famed 16th-century mathematician, alchemist, astrologer and advisor to Elizabeth I. The creative process was a very unusual one: Damon wrote loads of songs and then over the course of a few months, we workshopped them into something like what you hear here. By 'we' I mainly mean the band, which consisted of Mike Smith on organs, Bill Lyons, Ann Allen and David Hatcher on every imaginable early wind instrument, Arngier Hauksson on theorbo, me on viol, Madou Diabaté on kora, Afrobeat legend Tony Allen on drums, and of course Damon doing his thing. Andre de Ridder and Steve Higgins did orchestrational stuff too.
The end result is an album comprising lots of our own improvisational and compositional input. I felt very invested in it. Below, you can listen to a few of my favourite viol tracks.