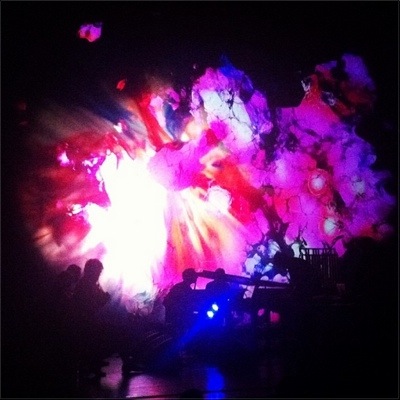 This was definitely one of the coolest gigs I've done so far. André de Ridder asked me to join his new pan-European contemporary music collective Stargaze for a performance of In C that was a collaboration with both the English electronic musician Matthew Hebert and the legendary American psychedelic visualists that are the Joshua Light Show. There were something like 12 of us onstage, a mixture of orchestral instruments, homemade percussion robots, electronic concertinas, and Matthew & co. with shotgun mics live sampling and manipulating everything we did. And to top it all of, Joshua Light Show were eight strong behind the screen making the most beautiful and entirely analog (like, coloured drops of oil and water kind of thing) projections in response to the music. JLS even has their own musical director, who knows In C inside and out, so they were responding extremely sensitively to everything that we were doing. It was actually heaven. And we'd all memorised the whole thing, so it felt incredibly organic and pure.
It sold out the Barbican, which was a pretty amazing feeling. Also on the second half of the concert was another performance of In C by techno master Pantha du Prince and the Norwegian percussion ensemble the Bell Laboratory. They were also fabulous, obvs.
Photos by the Joshua Light Show, Bishi and my iphone.