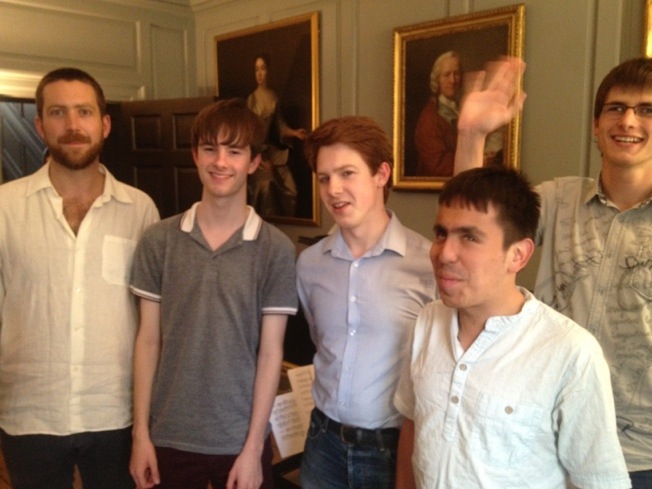 This week I had the incredible honour of working with four extremely talented young composers participating in the Royal National Institute for the Blind's Composition Summer School at the Handel House museum. It was a workshop led by Cevanne Horrocks-Hopayian, who is composer in residence at Handel House. The four composers were Richard Hyman, Jordan Harding Pointon, Kevin Satizabal and Michael Andrews. You should definitely check out their work.
On Monday, we had a full day together at the museum, which was an introduction to the viol and everything it can do. I played a few pieces, they asked loads of questions and the viol got passed around the room for everyone to feel and hold. Cevanne introduced the students to the baroque concept of the suite, and shared some compositional wisdoms. Then I scuttled off to Edinburgh for two days to play a recital while the guys got to work writing things. On Friday, we reconvened and I had four brand new pieces for solo bass viol in front of me. We then spent that day together with Cevanne refining things, and I had a few hours' frantic practise in preparation for a concert that evening. In the concert, I played a long suite comprised of the new works interspersed with baroque pieces that I'd chosen to relate specifically to each new piece.
Working with these guys was a wonderful and eye-opening experience. They heard so many details in the viol's sound that I normally take for granted, and their understanding of these nuances clearly came across in their pieces. One of the most impressive things was that they all wrote things that were totally playable. A lot of things were very difficult, but everything they wrote was entirely possible. And it all sounded like viol music! It was a hugely exciting and inspiring experience.