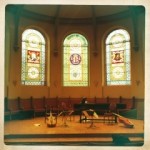 Last night I did a recital programme in Toronto for the super cool early music series Scaramella, of which Joëlle Morton is both the artistic director and resident viol player. She and harpsichordist Sara-Anne Churchill were the kickass rockstar continuo team for an Angel & Devil recital programme featuring works of Marin Marais and Antoine Forqueray, with a bit of Sainte-Colombe and Louis Couperin thrown in for good measure.
We did suites from both sides of the celestial divide, and in the second half of the programme staged a kind of competition between the two composers, in which we paired pieces in a similar vein. So it was the Marais Allemande La Magnifique vs. Forqueray's La Leclair, La DuVaucel vs. Les voix humaines, and the Chaconne La Morangis ou La Plissay vs. the one from the end of Marais's Labyrinthe. The aim was to illuminate their similarities as much as to examine their differences. It seems to have worked.
I'm also doing a similar programme on 22 Feb in Chapel Hill, North Carolina with Brent Wissick. Everybody come; it's free!