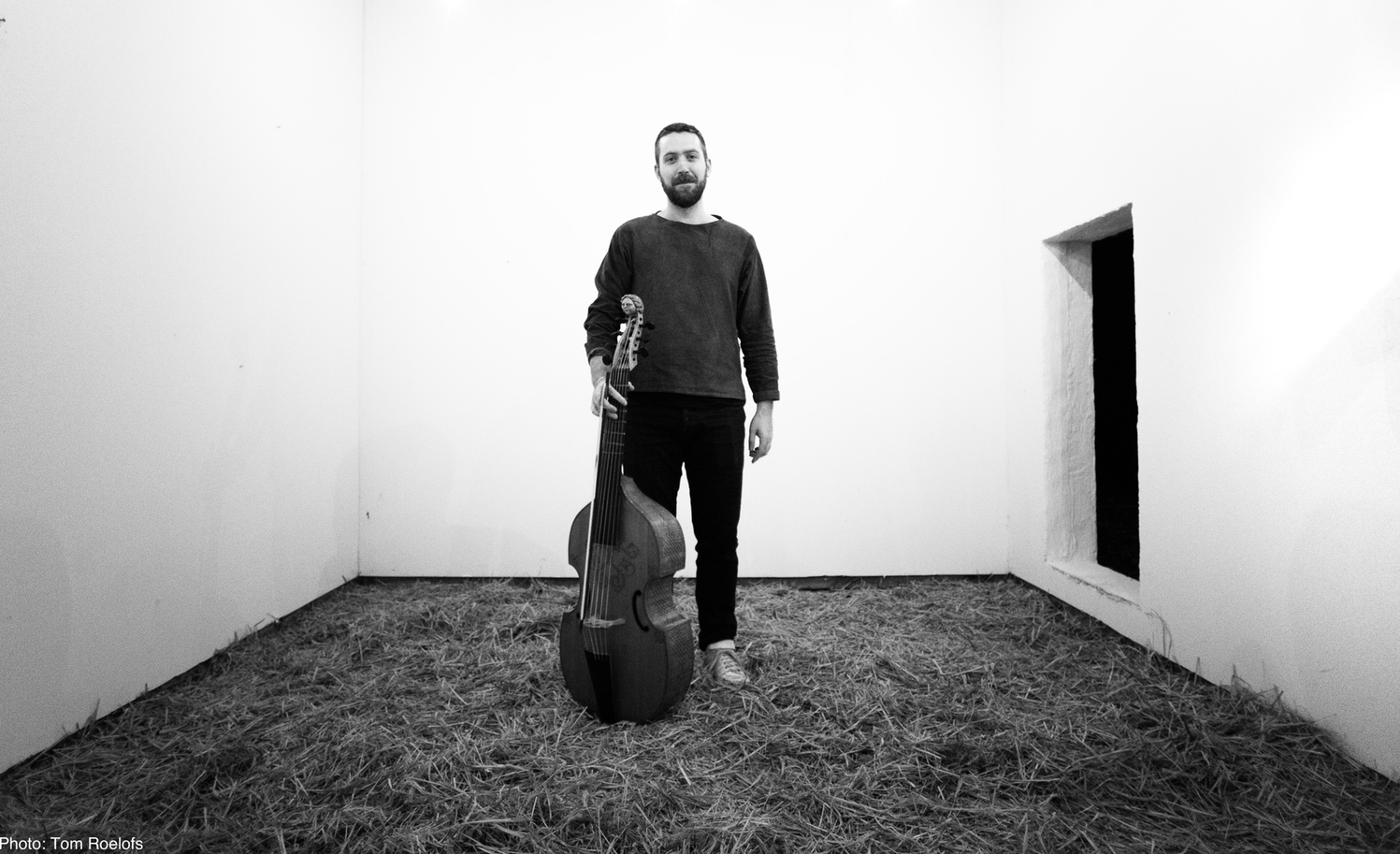 "Stylish and expressive, nuanced virtuosity in the Forqueray, more moving yet in a reflective wisp of Marais"
THE TIMES
"Liam Byrne gave a glittering performance to match what he was wearing, and proved able to be skittish, throw a tantrum, and come to a sweet resolution, all in a brief sequence of notes"
THE GUARDIAN
Liam Byrne spends most of his time playing either very old or very new music on the viol. An obsession with the instrument's most obscure 16th and 17th century repertoire is a recurring theme in his work, whether in devising baroque performance installations for the Victoria & Albert museum, or in collaboration with the Appalachian fiddler Cleek Schrey, or creating new electronic works with Icelandic composer Valgeir Sigurðsson.
Liam's solo performances frequently combine old viol music with new works written for him by composers such as David Lang, Nico Muhly, and Edmund Finnis, among many others. Summer of 2017 also sees the release of two massive studio-based works: Donnacha Dennehy's 40-minute long Tessellatum for multi-tracked viol and viola (with Nadia Sirota), and Valgeir Sigurðsson's Dissonance, a 23-minute deconstruction and explosion of a Mozart string quartet using many layers of Liam's improvisation. Both are released on the Icelandic label Bedroom Community.
In June 2017, Liam was commissioned by the Victoria & Albert museum to create a site-specific sound installation for their new Courtyard Gallery, which resulted in the 8-hour long piece Partials, an exploration of the space's resonance derived entirely from upper partial harmonics played on the viol. In 2015 Liam also collaborated with Nico Muhly on a sound installation for the National Gallery's Soundscapes exhibition, and in 2016 was commissioned by the Dulwich Picture Gallery to make an immersive work in their Mausoleum, in response to two 17th century paintings by Gerrit Dou.
Over the years, Liam has worked closely with a wide variety of musicians, from Damon Albarn to Emma Kirkby, and is a frequent guest of new music ensembles Stargaze, the London Contemporary Orchestra, and Crash Ensemble. With a background in Historical Performance and degrees from Indiana and Oxford Universities, Liam has played and recorded with many of Europe's leading Early Music ensembles, including the Huelgas Ensemble, Dunedin Consort, The Sixteen, i Fagiolini, and the viol consorts Phantasm, Concordia, and most notably Fretwork, with whom he toured and recorded extensively for several years.
---
LISTEN
---
Inside Voices at the Victoria & Albert Museum
This is a short documentary film about a week-long performance I gave at the V&A in June 2015 as part of my Artist Residency there. For six days, for three hours a day, I sat inside a Victorian plaster replica of an ancient Roman column and played short concerts of Baroque music for one person at a time.
Marin Marais: Sarabande in G major with Jonas Nordberg
Jonas is one of my all-time favourite musicians to play with, and we've recently begun exploring Marais' music in depth together. This is a little phone video of one of our early rehearsals in London.
---
Ferrabosco: Two Corants for lyra viol (fhfhf)
This was filmed in London in March 2013, and is an excerpt from a short film by Samuel Dowd. If you want to see me doing the washing up, drinking coffee pensively, and talking about the viol, you can watch the whole ten-minute short film here.
Rognoni: Diminutions on Ancor che col partire (LIVE)
This is a live recording of a show Valgeir Sigurðsson and I played at Scopitone Festival in Nantes, September 2017. In this piece, all the notes I'm playing come from Riccardo Rognoni's 1592 publication, and Valgeir has made an electronic version of the original madrigal by Cipriano da Rore.
---
Tessellatum by Donnacha Dennehy with Nadia Sirota
In 2015 Donnacha Dennehy wrote a monolithic 40-minute piece for 11 layers of viol and 4 layers of viola, for Nadia and me to multitrack at Greenhouse Studio in Reykjavik. It's got loads of delicious microtones (achieved by tying extra frets onto the viol neck) and this is a short excerpt, with a video by Steven Mertens. Get the full album and video here.
He Makes My Day with Mara Carlyle
Mara is another of my most favourite and frequent collaborators, and we perform often as a duo. Sometimes we do her songs, other times transformations of Schumann or Dowland, or make something entirely new. This is from the end of an evening at Listenpony, a composer-led contemporary music series in London.
---
Marin Marais: Prelude in F major with Jonas Nordberg
More Marais rehearsal footage from Jonas' place in Stockholm…
Damon Albarn: 'Apple Carts' Live on Jools Holland
This is one of the songs from Damon Albarn's opera Dr Dee, performed here in a live version we did for the BBC programme.
---
PROJECTS
---
Coming soon, like very very soon….
---
---
Send me an email: holla@liambyrne.net
Top